Design
Crystal-Mecha
Designer
Brian Flynn
Producer
Super7
Material
Japanese Soft Vinyl (Sofubi)
Dimensions
9″ in height
Purchase Information
Super7
Crystal-Mecha, was initially revealed as an illustration by artist/illustrator MATT ALLISON on the Super7 blog, based on Brian Flynn's figure design… Later used for the toys packaging and promotion. It looked like the instructions from the Bullmark Z-Gokin toy, and I have a huge soft spot for diagrams and technical illustration. The conceptual artwork combined a geometric head, in place of a mechanical godzilla-like monster design. Seamlessly combining traditional Japanese toy design with a modernist / minimalist design element. It was impressive and creatively refreshing.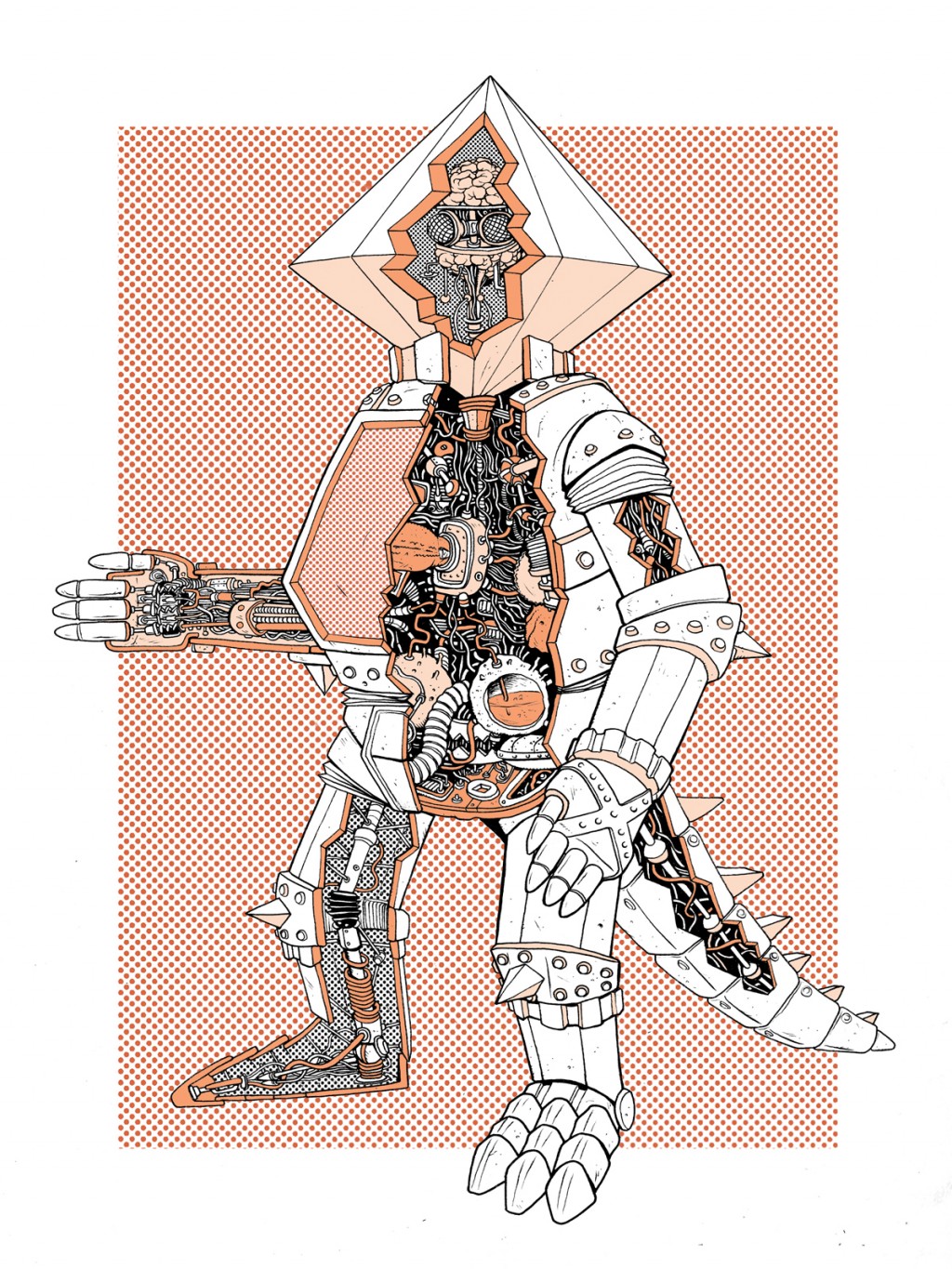 Shortly after a target print followed the original 2D art by renowned designer Clark Orr. This was included with the First Release of the figure at SDCC 2013.
Ultimately realised as Black vinyl, with an orange crystal head. Bold color solids, and a combination that makes me immediately recall the 1987 Nike Air Safari.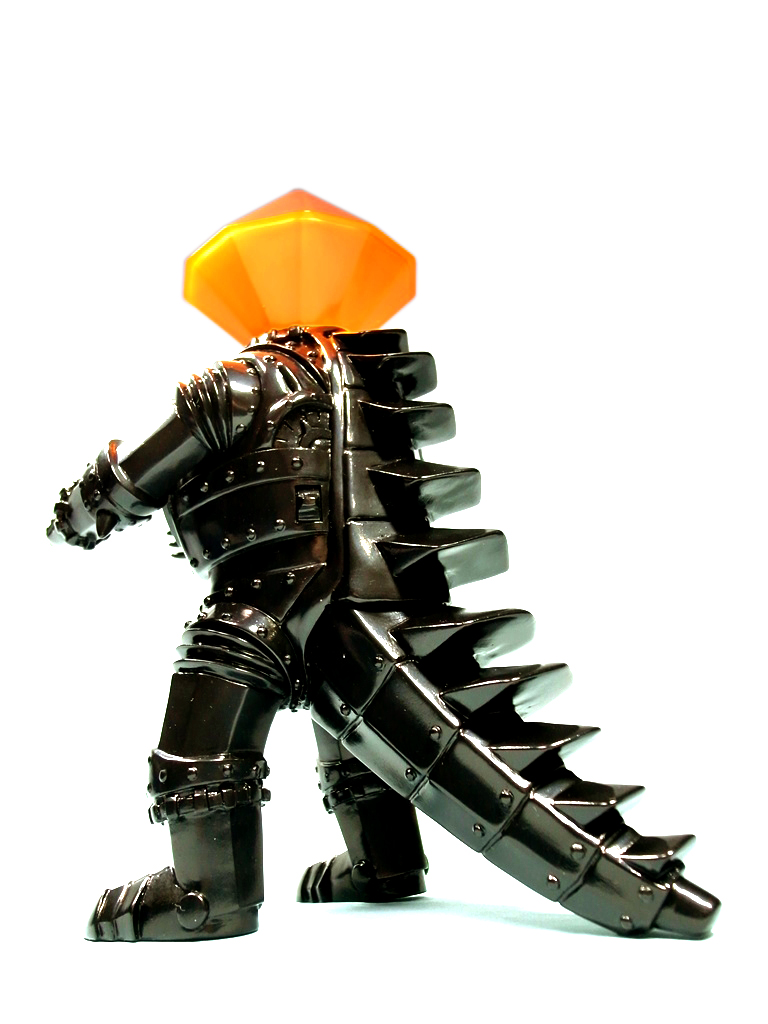 The latest is a painted release on red vinyl, with additional levels of detail, in traditional japanese Bullmark/Marusan 1970 monster-toy, factory production style. Available for purchase here.
Japanese toy maker Marusan, and later Bullmark, would turn out what sets a genre defining aesthetic process, commonly referred to as "kaiju" toy design. Many modern designers and producers keep the genre strong, with modern twists and other times, with strict following of the material, scale and aesthetic. Super7 nicely marries both with "Destroy All Kaiju".
Brian Flynn was nice enough to answer a few questions about the process and development of the new line…
Why is the line called "Destroy All Kaiju"?
The name Destroy All Kaiju is a both a nod to the history of the toys you mentioned – we at Super7 are pretty deep in the world of vintage toy love, as well as the films and TV shows that spawned them. The classic Toho film 'Destroy All Monsters' is a favorite, particularly because it brings together a bunch of different giant monsters for one big brawl! But the Destroy All Kaiju name also intends to set ourselves apart from the classic toys – we are greatly inspired by them, but want to take it in a new direction as well.
What made you choose this specific geometric shape for the head: the decagonal pyramid? Is there any significance to the shape for you?
In thinking about the crystal as a power source for a giant robot, we thought it would be cool and surreal to give the creature a giant, emotionless crystal head!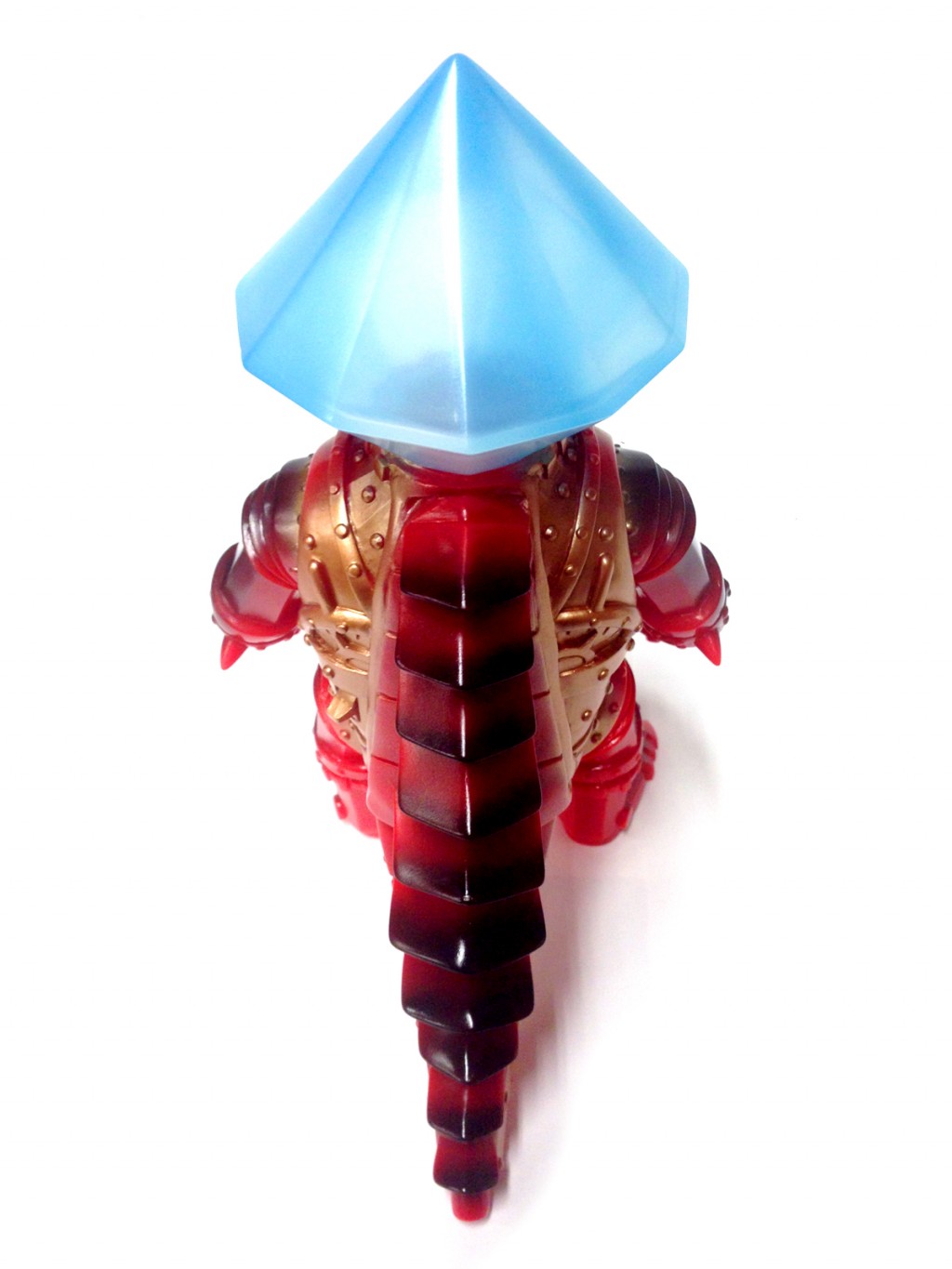 This figure is a thorough re-envisioning of Mecha Godzilla, what drove the choice for that as a foundation?
The initial concept for the line came from hanging out and playing around with mashing up some classic giant monster archetypes. So we played around with dinosaurs, robots, robot dinosaurs and so on.
What type of design challenges did this present you with?
The challenge in this series has been to create characters that evoke the look and feel of something classic while also feeling fresh and new.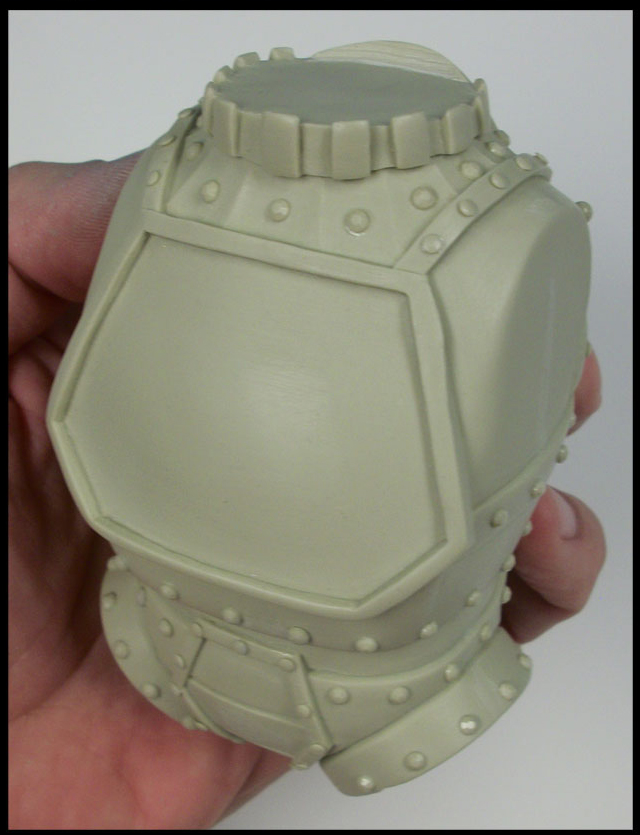 How has the toy design been received?
The reaction to DAK and Crystal Mecha specifically, has been great. Collectors and fans of classic Kaiju toys and films have found that these figures fit right in with the original style.
Any interesting purchasers outside of what most would consider the Kaiju collector base?
Don't talk about fight club 😉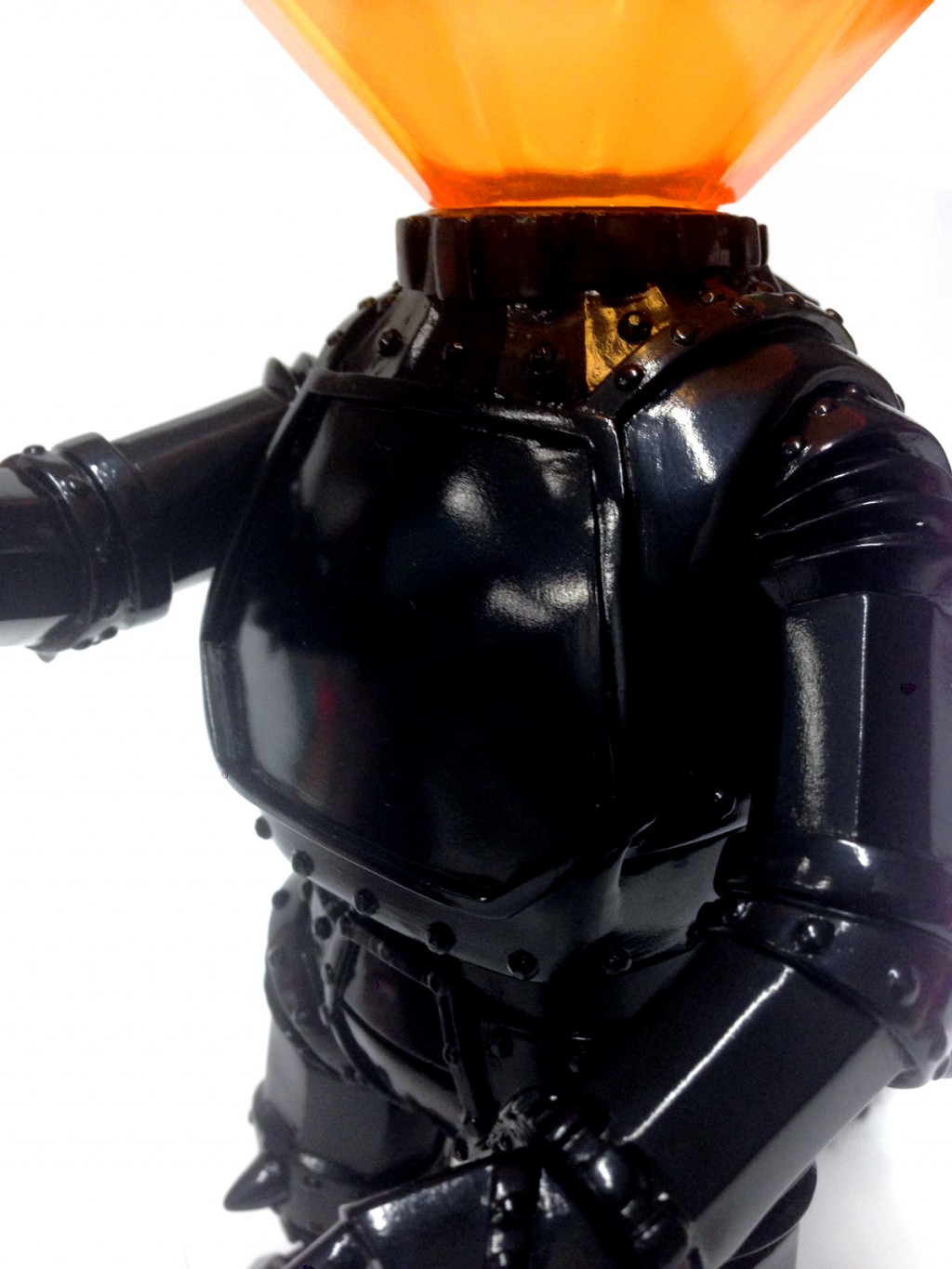 Do you see toy design, particularly this series, as a way to explore new forms that may appeal to an even broader base of design and art buyers?
There is always the potential for the toys we make to find a broader audience, and we certainly welcome that. At the same time, our focus is always on the creation of great toys that are true to the inspirations and ethos of why we started making them to begin with.
How do you explain toy design, say to a brand you may be collaborating with or to a buyer or commissioning gallery intrigued with this relatively new art genre?
Toy design is the process of creating an object intended to be interacted with. When we make a toy, the lines sometimes blur between the aesthetics and play value, but both considerations are key to the process. If an object is static, it is a statue – a toy needs to have the ability for the viewer to interact with it. This single constraint allows for a unique expression of the concept, whether it is a film character, brand icon, etc, that cannot be achieved with other media.
Are toys art?
There is certainly art in the creation of a toy, whether there is a difference between a piece of art and a beautifully crafted toy is for somebody else to decide.
How do you feel about toys being viewed or studied as art and design?
I think that toys and toy design are worth studying from an art and design standpoint, there is a great deal of careful process and decision making that goes into the production of a successful, quality toy.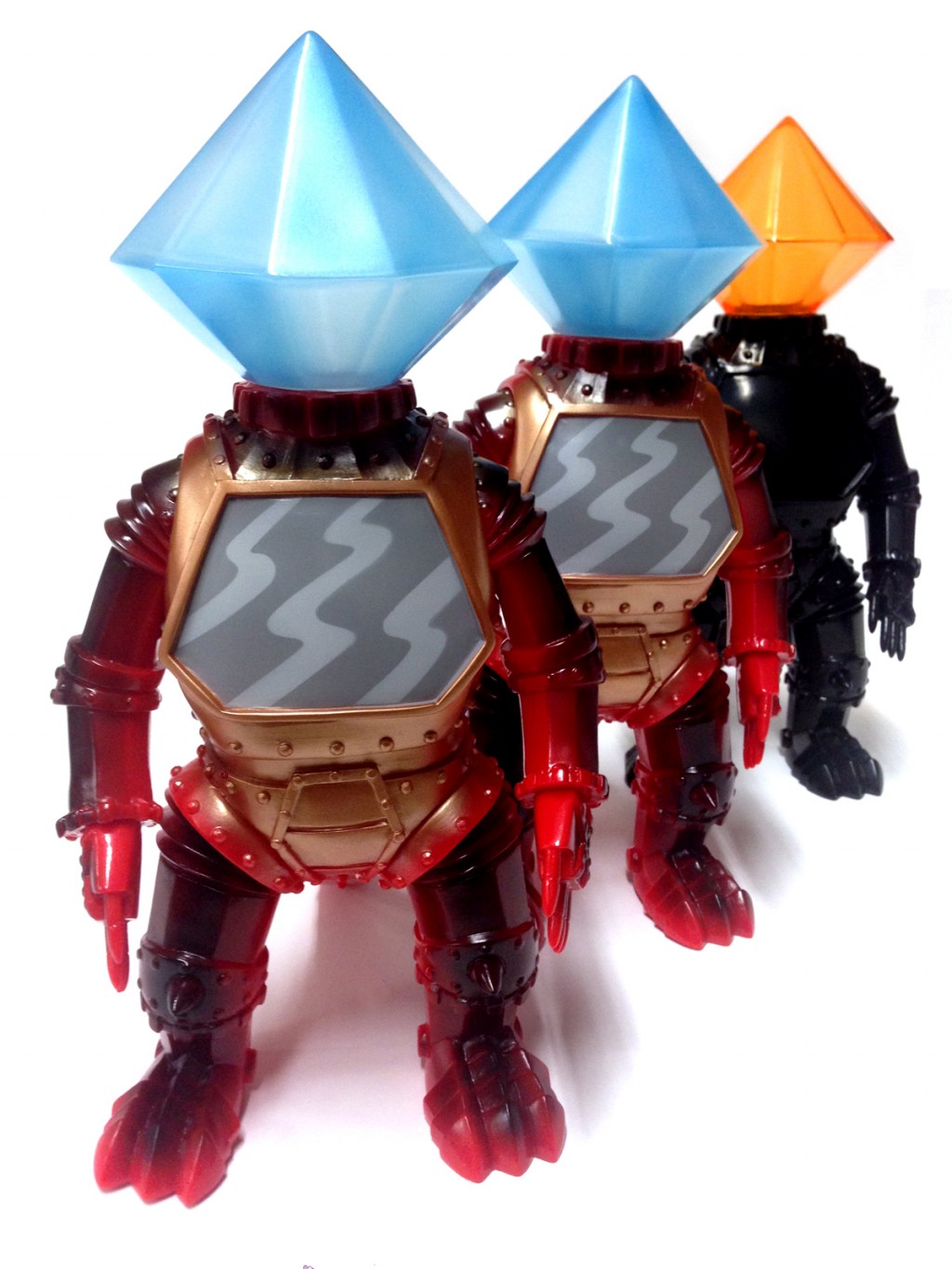 Most of your toys are produced in Japanese Soft Vinyl – is this your favorite material for a finished release?
While we do love soft vinyl, the best material used for any particular release depends on the project. For the DAK series, the classic toys we are inspired by are made of soft vinyl, so that is the most appropriate material to use. We recently launched the ReAction Figures series with the release of the lost Kenner Alien figures, for these toys, soft vinyl would have made no sense. The original intent for those figures is a solid plastic, just like the old star wars toys, so that is what we made them out of.
There are several interesting details in this release, particularly on the hands – can you elaborate about this or any other details that you'd look to share or call out?
All the little details are there as fun bits of storytelling about the character, and to make the toy more fun to pick up and mess around with, like the on/off switch on the back side, rivets, dials, T.V. screen chest and what not. The X's on the hands is just a little inside nod to the straight edge kids out there. It could just as easily be steel bracketing for support, but it is a fun homage if you happen to know the reference, if not, it's fun without knowing as well.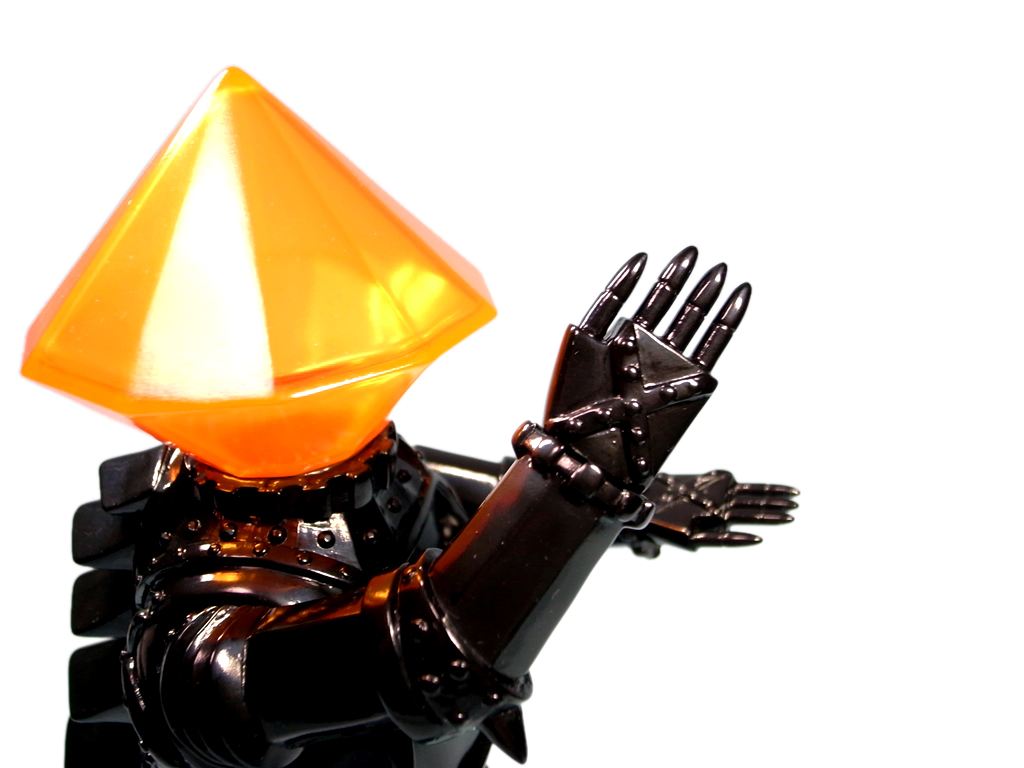 If his head is a crystal, how does he eat? Or is that a really stupid question since it's obviously a machine? I guess if you made more character toy designs in this format, it could be fun to explain…
How the giant crystal drives the giant robot is a mecha-mystery!
How come no one makes missile firing toys? Or fists that shoot from the vinyls? There were many projectile firing and other great play design in this scale and material originally – is it just cost and time prohibitive?
We have always loved missile firing toys, and added a spring loaded rocket punch to our Super Shogun Stormtrooper. We would love to do a missile firing vinyl figure, just waiting for the right project. It could definitely happen one day.
It'd be sweet if the crystal launched off the top. No?
We definitely have some good surprises in store…
Will the "Destroy All Kaiju" line encompass a specific number of different design releases?
Yes, the idea is to continue to build out the monster army with a variety of kaiju characters! The only limit is imagination..
I feel like there could be an Magic 8-ball toy in the works? Are you holding out on us?
I've seen an 8-ball monster prototype out there in the wild, but it is not from S7.
What else should we know about our good friend Crystal-Mecha?
Crystal Mecha is flying through space toward Earth as we speak – When he arrives, we are doomed!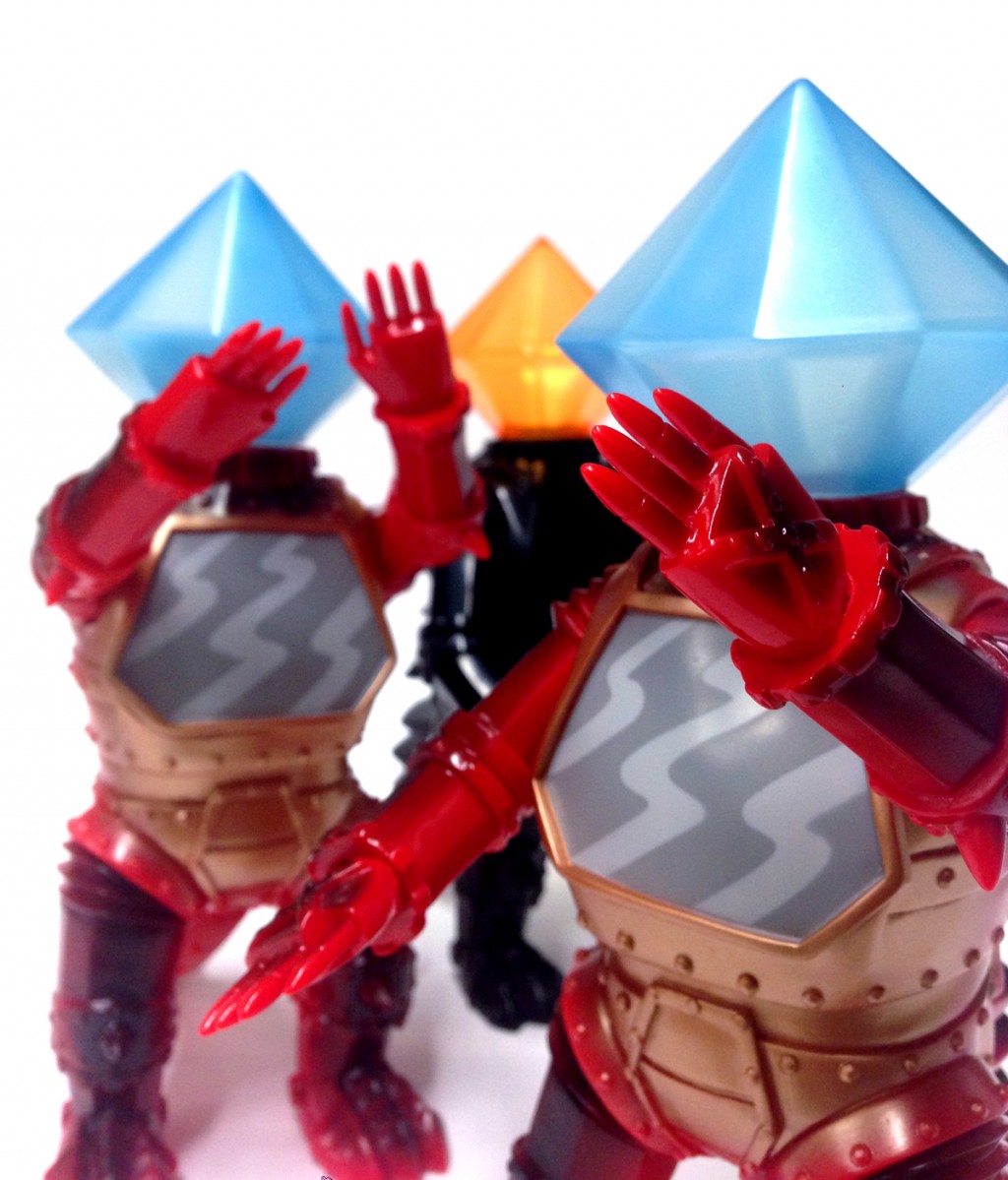 For more inspiration and info, follow @BrianFlynn @JoshH @Super7Store